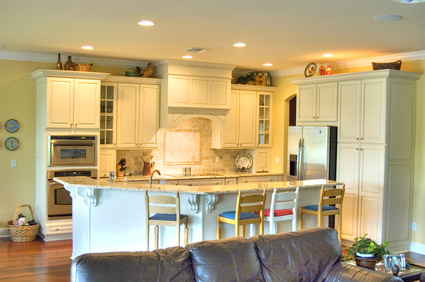 Kitchen cabinets
Cabinet making is all about good carpentry. You must employ the three essential steps of working with wood: material selection, joinery and application of finish. Purchase carpentry products and cabinets at your local hardware store or have them custom-built to suit your exact needs. Don't go cheap on your materials, you will regret that decision very quickly. If you want your cabinet to last, spend the money for quality products.
Carpentry
Carpentry covers everything from constructing an entire house to building a deck, hanging trim or installing a staircase. Carpentry is one of those lost arts for the layperson. Today not many high schools offer woodshop or industrial design instruction so that students can test their skill and decide whether they have an interest in this type of work. It can be very tedious and time-consuming when done correctly. For instance, it takes a great deal longer to hang trim when you cope the corners compared with butting the ends together.
Cabinet Making
Many steps go into building cabinets. First, you must take exact measurements to ensure that the cabinet will fit in the space for which it is designed. Next, all the pieces must be cut to length and routed to the chosen design. The face frame pieces and panel pieces are then glued and joined together. Create the box section of the cabinet using the same method. When all the pieces are together, sand, stain and finish them. The last step is to attach the cabinet door to the cabinet box.
Material Selection
There are many options when it comes to choosing the material you use to build your deck, staircase or cabinets. In almost all cases, there are both synthetic and natural wood options. Your pick will depend on the overall design and look that you want, along with the individual properties of the material. For instance, if you are building cabinets and would like to create a contrast in the design, you might use hickory for the face frame and walnut for the panel. However, if you are building a deck that will be subjected to a wide range of weather conditions, consider using Ipe wood decking because of its resistance to warping and decay.
Joinery
Quality joinery makes all the difference. A cabinet that is just screwed or nailed together is not going to last like a cabinet with dovetail joints. Coping the corner of a piece of trim or molding is also a more solid method. Instead of just butting the pieces up to each other, a real artisan will cope the wood so that the pieces fit into each other almost like a puzzle. When you are building any type of cabinet, the joints should be glued to ensure that they'll last over time.
Finish
If you want a beautiful finish on a cabinet or other piece of furniture, you have to sand and sand, and sand some more. There should be at least three coats of finish on the piece of furniture or cabinets. You also need to sand between each coat. This will give your cabinet depth and richness. There are different types of finish to choose from depending on the wood and the look that you want. A good finish for a table is lacquer because it is resistant to alcohol. Polyurethane is water-resistant and can be brushed on if you do not have a sprayer.
References
Resources